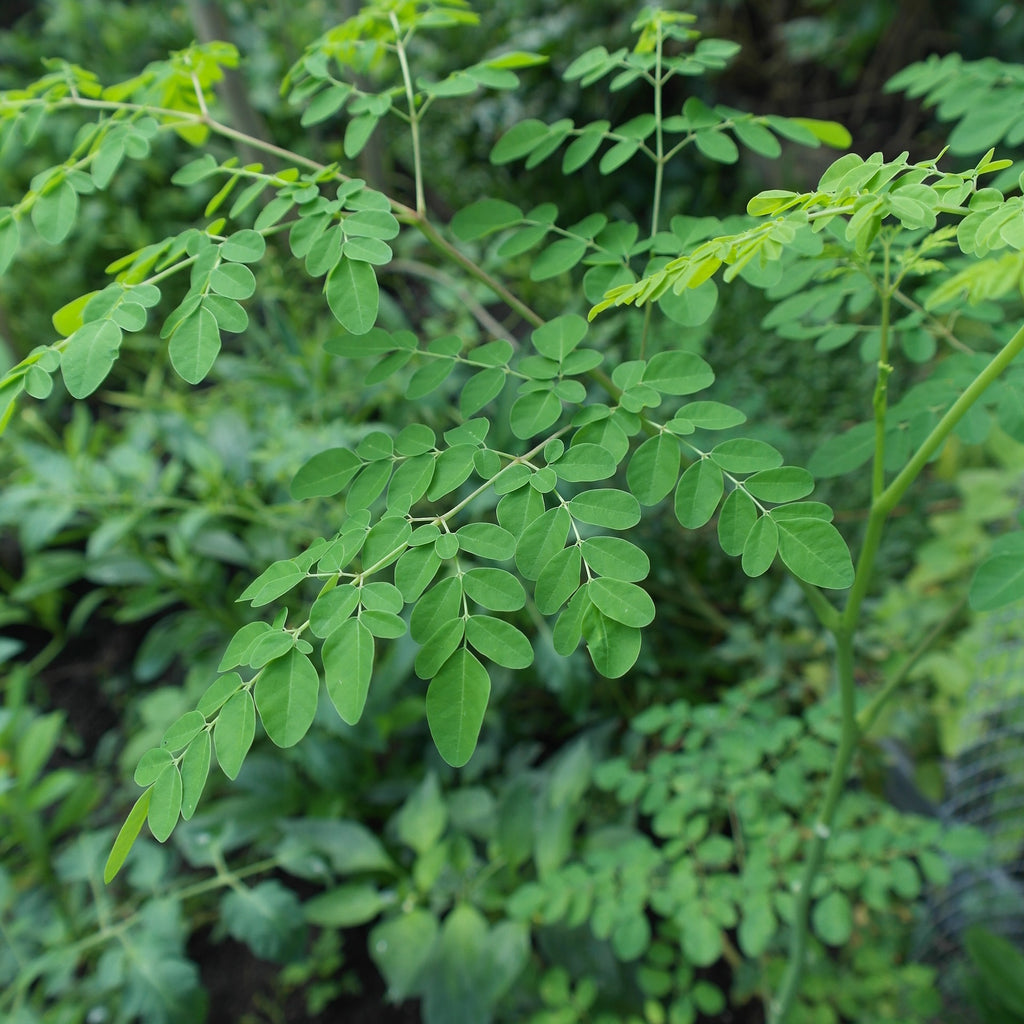 Superfood is a food that offers high levels of nutrients and has several health benefits. It's rich in compounds such as fibers and antioxidants that are beneficial for a person's well-being.
Moringa Oleifera, also known as the drumstick tree, has numerous qualities that make it one of the most nutrient-rich plants in the world. This magical plant originates from the Indian subcontinent and is rich in vitamins, minerals, and antioxidants. From skin nourishment to fighting infections and from protecting the liver to treating diabetes, the Moringa superfood has exceptional healing properties. Therefore, it's widely used for making medicines and treating health problems.
Each part of the plant, the Moringa leaves, roots, bark, pods, and flowers is super beneficial. The Moringa plant isn't only a storehouse of goodness but also drought-resistant, fast-growing, and highly valuable. The cultivation of the plant for Moringa products can be traced back to ancient times as it was utilized in Indian medicine. It can be grown in several kinds of soil, but its production is most suitable in tropical and subtropical areas. Today it's commonly produced and harvested in India and Philippines. However, because of its demand and nutritional value, its cultivation is rapidly spreading throughout Asia,  Africa, and America.
Moringa is a commonly used vegetable in India and is used to increase the nutritional value of staple food. Even though the production of Moringa centers around the Indian subcontinent, it doesn't affect the fact that Moringa supplements are in huge demand all over the world. As it's a superfood,  it is consumed in various forms like Moringa powder, oil, tea, etc.
People in today's world are more inclined towards plant-based nutritional supplements. Moringa leaf powder has a huge demand as it is highly nutritious and contains 30% protein. The moringa plant provides a perfect combination of rich nutritional value and low price, which increases the growth in its sales. It's also becoming a part of extensive research to develop several kinds of medicines.
The Moringa plant has immense benefits. The leaves of the tree itself have a natural defense mechanism against pests and contain antioxidants which when consumed, protect people from health problems. It has antibacterial and antibiotic properties that protect the human body from infections. Moringa leaf powder is used in making medicines that are used to treat skin diseases. Adding to it, the leaf extracts have multiple vitamins and are used to treat gastric and digestive problems. Moringa also contains phytochemicals that act as an anti-inflammatory agent and reduces swelling in the human body. It not only helps to cope up with health conditions like diabetes and cholesterol but also boosts immunity.
If plants were heroes, Moringa would have been a superhero. No wonder this plant is called a miracle plant. It is a perfect combination of taste and health. Moringa leaves and drumsticks taste delicious and are widely used in soups, salads, and curries. 
The Moringa powder is an effective plant-based nutrition supplement. With tonnes of goodness and benefits of health, there is no reason why Moringa leaf powder shouldn't be a part of your daily cooking. So, if you wish to avail the benefits of Moringa nutrition, make sure you go for pure and organic Moringa powder.
Checkout Genuine USDA ORGANIC Moringa Powder Here