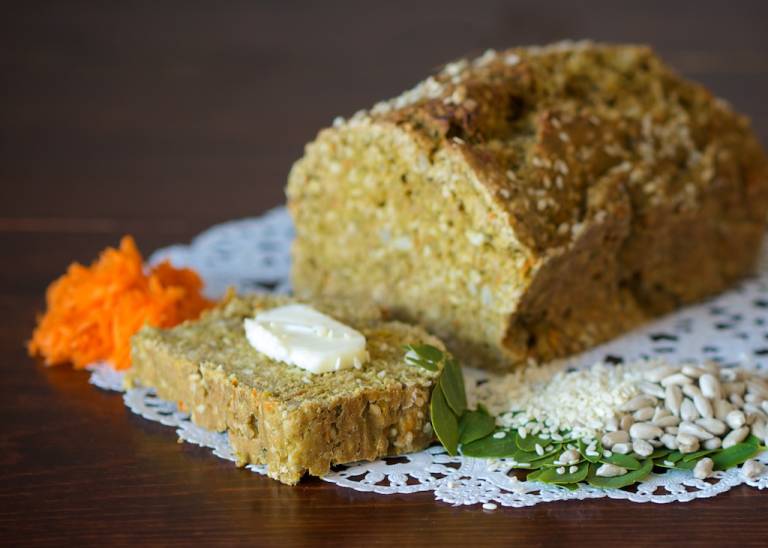 The Moringa plant has several health benefits that make it a package of goodness. Moringa powder, when used in cooking, makes a dish nutritious and healthy.
Have you ever wanted to have bread, or a sandwich for breakfast, but held yourself back? Well, now you don't have to because here is a recipe that you will love. This Moringa Bread recipe by A healthy leaf makes delicious and nutty whole wheat bread.
Ingredients For The Recipe
Mixed raw seeds (sesame, pumpkin, sunflower)
Finely chopped carrots: 3
Or
Moringa Powder: 2 tsp
Method of Preparation
The first step for preparing fresh Moringa bread is to soften the yeast. Take the yeast and add warm water to it.
Then add all the ingredients into a bowl for mixing.
Mix it till it becomes soft and a moist dough is formed. You can also use a hand mixer or stand mixer for the process.
Spread the mixture into small loaf pans. If you like, you can also sprinkle sesame seeds over the dough.
Keep the 2 small loaf pans in the middle rack of the oven. Set the temperature to 200 Degree Celsius.
Bake the Moringa Bread for 45-50 minutes or till a toothpick comes out clean after sticking into the bread. The crust of the bread should have a beautiful golden brown color.
Your Moringa Bread is ready. This recipe doesn't use sugar. Hence you don't have to worry about the carbs. It is not only easy to make but also very healthy as well as delicious. ExoticBionaturals, being the provider of high-quality superfoods, offers pure and organic moringa powder. Make this bread at home and enjoy it with your favorite spread when you crave a quick snack.