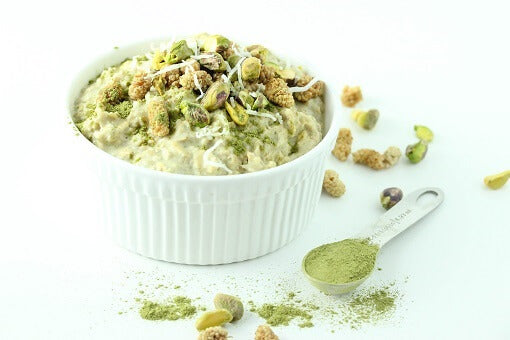 Eating healthy doesn't mean what you eat should be boring. Though oats have high fiber content, you know what is better than a plain bowl of rolled oats? One with even more healthy ingredients like moringa, almond milk, and nuts. For all those mornings when you want to eat something different, here is a delicious recipe for healthy moringa oats by Nuts, that will make your day.
Ingredients For The Recipe
Gluten-free rolled oats: 4 cups
Agave syrup or maple syrup: 3 tbsp
Chopped pistachios: ⅓ cup
Method Of Preparation
The first step is to combine rolled oats, milk, vanilla extract, and maple syrup in a medium saucepan.
Put the pan on the stove and cook the mixture at low to medium heat. Keep on mixing till the oats become soft and some of the milk has been absorbed. It will take around 5-7 minutes.
Turn off the heat and add the moringa powder to it. Also, add the remaining ingredients. Mix it well and serve.
This quick and fiber-rich breakfast is little more than just comfort food. It has moringa, pistachios, mulberry, and chia seeds. All of these ingredients, especially moringa, make this recipe a powerhouse of nutrients. ExoticBionaturals curates the best quality of moringa powder for you to increase the nutritional value of your dishes. Why not try this quick and delicious recipe at your home for breakfast tomorrow morning.