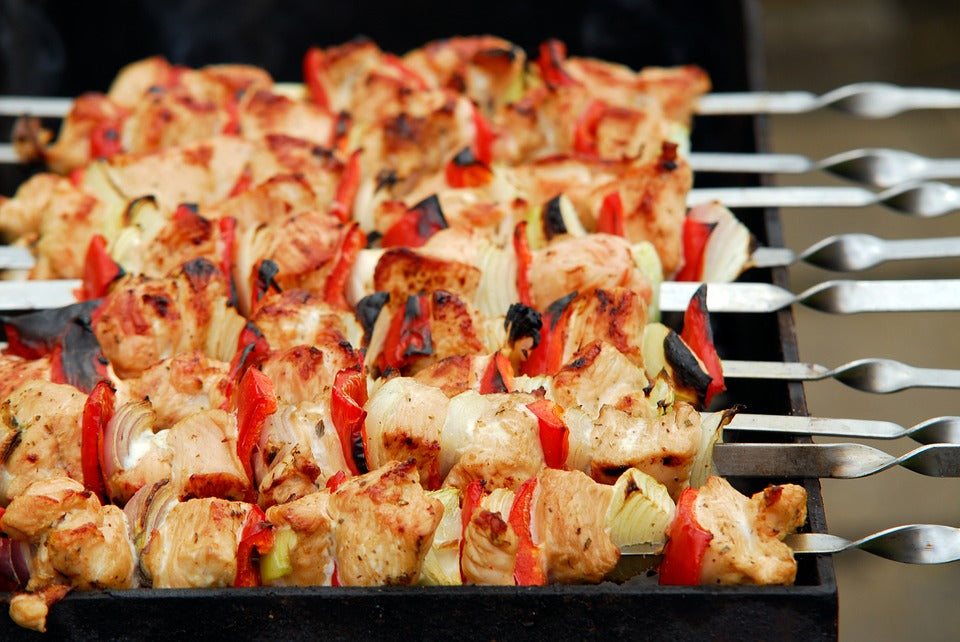 Have your tastebuds been craving something flavorful, savory, and delicious recently?
The Persian Saffron Chicken Kebabs ( also known as the Joojeh Kebabs) is a perfect delicacy that will quench your cravings. The best thing about it is that it can be easily prepared at home and only takes 15-20 minutes to grill.
If you are planning to prepare Joojeh Kebabs at home, here is a quick recipe by aheadofthyme that will help you to make the tastiest kebabs.
Ingredients For The Recipe
Chicken Breasts: 2 pounds of skinless and boneless and chicken breasts. You will need around six pieces of 1.5-inch. It will be enough to make 8-10 skewers, with 4-5 bits of chicken on each stick.
Saffron Powder:

A premium quality of Persian saffron is vital to get rich color and flavor. You can granulate the

saffron threads

into a powder with a mortar and pestle. Crushing the saffron threads into powder will give a great flavor.
Lemon Juice:

Fresh lemon juice is preferred. However, packaged lemon juice will also turn out great.
Yogurt:

Go for plain full-fat yogurt. You can also choose Greek yogurt or low-fat yogurt.
Olive Oil:

Nothing can beat extra virgin olive oil.
Method Of Preparation 
First of all, start with marinating the chicken. Add chicken into a zip-lock pouch. Add chopped onions, yogurt, olive oil, salt, lemon juice, and saffron powder. Press the bag to remove the air and seal it properly. Roll the marinade around to cover the chicken. Then keep it in the refrigerator to marinate for at least 1 hour.
After marination, take out the chicken pieces. To skewer the kebabs, thread around 4-5  pieces on every stick.  
The next step is to barbecue the skewers. Gently brush olive oil over the grill pan, and preheat it over medium-high heat for 5 minutes. You will see a glaze of oil, and the pan will sizzle when it's ready. Now place the sticks on the pan and barbeque it for 8-10 minutes on each side. Grill it until the inner temperature for the chicken reaches 165 F. Keep the skewers apart so that all the pieces are evenly grilled.
Your Saffron Joojeh Kebabs are ready. You can serve it with saffron rice and salad on the side. This mouthwatering dish is a perfect meal to prepare for the weekend, and you would want to make it again and again.