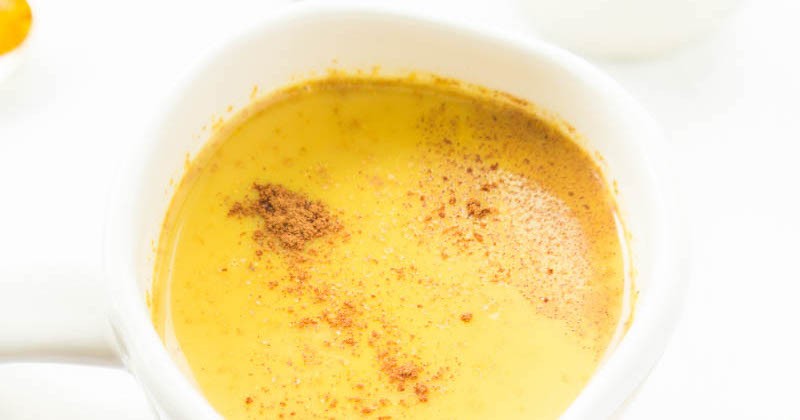 Think comfy, cozy and luxurious with all the warm fuzzies – that's what this Golden Milk Turmeric Latte brings to your coffee mug. But without the caffeine and boosted with inflammation-fighting properties. This recipe is perfect for those looking to go coffee-free for a while, or if you're craving a warm bevy to help you wind down from a busy day and give you a restful sleep.
Turmeric has amazing anti-inflammatory, anti-bacterial and gastrointestinal health benefits, largely due to curcumin, which is a highly pigmented antioxidant, giving turmeric also its signature golden colour.
Saffron has anti-anxiety & immunity boosting properties
The ginger & cinnamon are anti-carminative and gives a good boost to your metabolism
Servings 1-2 People

Ingredients
1. 2 cups raw unsweetened vanilla almond milk or coconut milk(or plant milk of choice!)
2. 1/2 teaspoon ground turmeric
3. 1/2 teaspoon ground ginger
4. ¼ - ½ teaspoon cinnamon powder
5. 5-6 Strands of Saffron (crush the saffron threads )
6. pinch of black pepper (to help absorb the curcumin in turmeric!)
7. 2 pinches of nutmeg powder
8. 2 pinches of clove powder
9. ⅓ – ½ vanilla bean powder
10. ½ teaspoon ashwagandha root powder (equivalent to 0.5g)

Method:
Take 2 cups of any plant-based milk or regular dairy farm Organic milk in a small saucepan. Boil it on medium heat until desired temperature is reached. You may choose to heat for 2-3 minutes, or until just warmed.
Add all the above ingredients and whisk until frothy.
Serve it when warm.