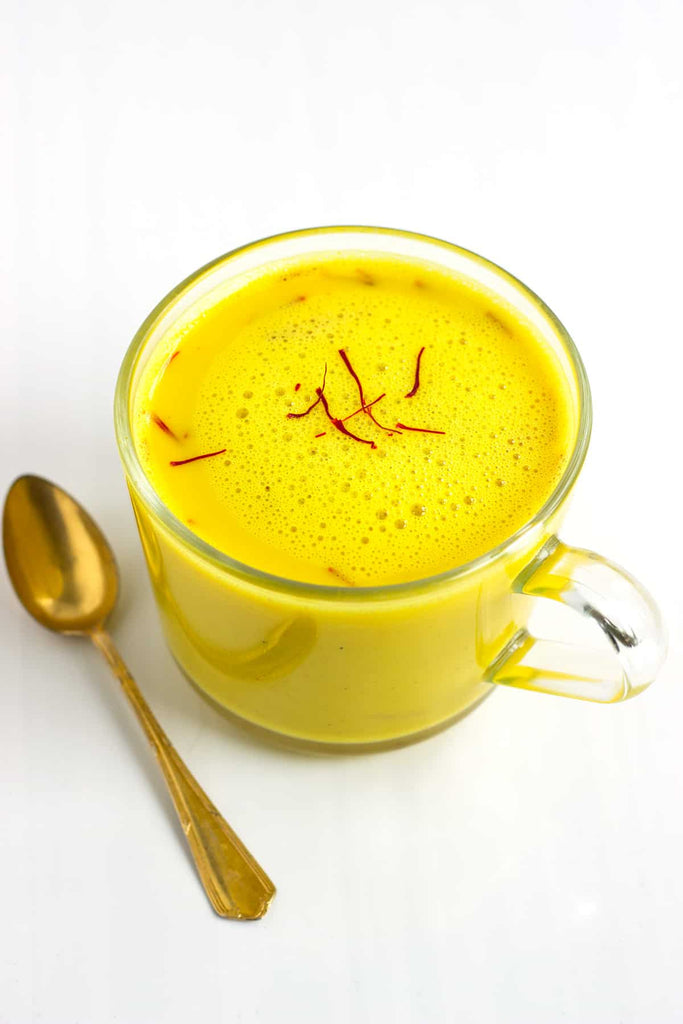 Saffron milk is a widely consumed beverage across the Indian sub-continent and now also becoming famous the world over for its immense health benefits.
Saffron milk can be made using 3 main ingredients: 
Milk (Whole Milk, Soy Milk, Almond Milk) 

Saffron ( ExoticBioNaturals Genuine Saffron)

Sweetener (Honey, Maple Syrup, Jaggery powder, Cane Sugar any other sweetener)
and further to make it more power-packed, one can augment it further by blending other healthy spices like Turmeric, Cinnamon, Ashwagandha, Star Anise, Nutmeg, etc.
Adding Turmeric with Saffron makes it further delicious and power-packed with health benefits. It truly becomes 'Golden Milk' in its true essence of good health.
Daily consumption of this salubrious elixir benefits in many ways. Saffron contains several carotenoids which have numerous health benefits. The main chemical components of saffron are Crocin, Picrocrocin, and Safranal. Safranal is one of the main antioxidants in saffron, which is packed with several health benefits.  Various research studies in ayurvedic science, Unani medicine, and pharmacological analysis has proven that saffron has powerful antioxidant, anticancer & anti-inflammatory effects. Studies have shown that saffron promotes cancer cell suicide (apoptosis) and inhibits proliferation. Also because of its memory & mood-elevating effects, Saffron has been proven to be effective at treating mild to moderate depression; and its high efficiency in lowering the levels of cholesterol and triglycerides in the blood of people suffering from cardiovascular diseases. The clinical findings suggest that saffron is a safe and effective herb with plenty of salubrious benefits. 
Daily Consumption of Golden Milk Benefits:
Immunity Booster

: Nothing sounds more comforting than a cup of warm saffron milk when you are suffering from a cold. Colds and fevers are extremely common, especially during the winter season. Next time you have a cold, just make yourself a cup of saffron milk. This won't just make you feel warm but will also relieve symptoms of cold and fever. Regular consumption will help to prevent you from getting colds further by improving your immunity.

Memory Booster :

Another great everyday benefit of drinking saffron milk regularly is that it will help you with memory retention. The antioxidant and anti-inflammatory properties of saffron extracts could imply their therapeutic potential for various issues of the nervous system. The spice interacts with the cholinergic and dopaminergic systems, which may have beneficial effects in the case of Alzheimer's or Parkinson's. Saffron helps in the further prevention of oxidative stress in the hippocampus, further enhancing learning and memory skills.  This makes saffron milk a very suitable beverage for the Elderly and the Young alike.

Mood-Elevator

: There have been proven studies that saffron may help improve mood and be a useful addition to treatment for depression. A study in the Journal of Behavioral and Brain Science found that a saffron extract increased dopamine levels in the brain without changing the levels of other brain hormones, such as serotonin. In Ayurveda, saffron is often taken with adaptogens, herbs that have an overall balancing effect by increasing energy or calming stress, as needed. Saffron enhances the effects of adaptogens such as ashwagandha. Drinking saffron milk can help mellow down the symptoms of anxiety and depression. It will help you to feel better and happier. Also used as an aphrodisiac in ancient Chinese and Ayurvedic concoctions. So, have a cup of warm saffron milk to feel & perform better instantly.

Sleep Inducer:

Insomnia is a common sleep disorder that can make it hard to fall asleep, hard to stay asleep or cause you to wake up too early and not be able to get back to sleep. You may still feel tired when you wake up. A lot of people find it difficult to fall asleep at night. Consumption of a warm cup of Saffron milk with honey during bedtime helps promote deep sleep. Saffron & Honey both have chemical components in them that help to get to sleep naturally. According to studies, honey has high levels of omega-3 fatty acids that help reduce tiredness and fatigue. The sugars in honey help produce serotonin, which is the hormone that improves our mood and helps us relax. Raw honey also has a lot of antioxidants which improves blood flow and allows your muscles to relax at night. Honey stimulates the body's production of tryptophan, which is the main reason your body enters sleep mode. Yes, saffron milk with honey is an excellent elixir for a sound sleep at night. 

PMS Reliever

: A lot of women have unbearable pain and cramps during menstruation. Regular consumption of Saffron relieves PMS symptoms & alleviates menstrual cramps. Saffron, which has anti-inflammatory properties when paired with warm milk is an excellent remedy for menstrual cramps. Saffron reduces the severity of PMS symptoms, but to prove its effectiveness for the treatment of this syndrome, further research is warranted.

Improved Skin, Vision, and Hair:

It is said that drinking saffron milk regularly will help to improve your skin complexion by elevating the skin tone & elasticity over time. Saffron also has remarkable effects on the genes which regulate the performance of the eye's key vision cells and not only protects the vision cells (photoreceptors) from damage but may also slow and possibly even reverse the course of blinding diseases such as age-related macular degeneration (AMD) and retinitis pigmentosa. The antioxidants in saffron can also help prevent hair loss. The spice repairs hair follicles and promotes hair growth. Saffron extract oil is used to treat alopecia-related issues. 
Preparation Method: Serves 2
Take 2 cups of whole milk in a small pot. Lactose intolerant folks could use any other options like Soy or Almond milk. Warm it up adequately.

Add 8-10 strands of saffron of Grade A+ Saffron, crush it between your fingers or palm and add to the milk. 

Add a pinch of other spices like Turmeric powder, Nutmeg powder, Cinnamon powder if needed ( optional)

Stir the saffron very well in the warm milk and let it seep for a 1-2 minutes so that the milk gets a golden yellowish hue.

Add some honey, maple syrup or Jaggery powder(raw sugar) to it as per your taste.

You can also add a pinch of turmeric to get more out of your saffron milk.

Adding a few crushed or powdered nuts like almonds/ cashews/ pistachios will make your milk even tastier while warming the milk. This is optional, though.

Pour the elixir in 2 cups and Enjoy the salubrious drink to drive away your winter blues!
ExoticBioNaturals brand of Super Negin Grade A+ Saffron is Organically grown and is one of the best quality of Saffron available in the USA & Canada. You could consider ExoticBioNaturals brand of Saffron to make this healthy delicious elixir.