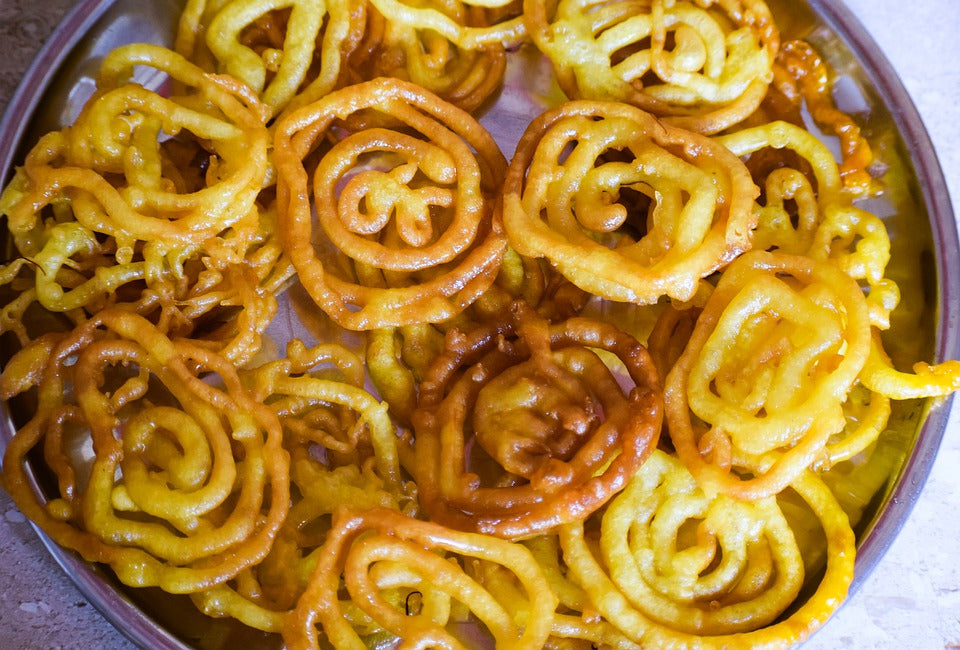 Whether it's the festive season or a special occasion, one doesn't need a reason to enjoy desserts, especially if it's the delicious combo of Jalebi and Rabdi. This 'hot and cool' dessert combo is a treat for those who have a sweet tooth. 
To enjoy your favorite sweets, you don't have to go out. You can easily prepare it in the comfort of your home. So, here we present a step-by-step recipe by cookpad that prepares mouth-watering saffron jalebi along with rabdi.
Ingredients For the Recipe:
All-purpose flour: 1.5 cup 

Rice flour: 2 tbsp  

Yogurt: 1 cup

Baking Soda: 1/4 tsp 

Yellow food coloring:  1 pinch 

Water: as per the requirement

Oil: for frying 

Sugar: 1.5 cup

Water: 3/4 cup

Cardamom: 1/2 tsp

Few drops of lemon juice

Milk: 2 liters

Sugar: 4 tbsp 

A few threads of saffron strands

Pistachios & slivered almonds: for garnishing
Method of Preparation
To start, mix all-purpose flour, rice flour, yogurt, and yellow food coloring in a bowl. Combine it well. Now add water, one tbsp at a time, so that it forms a thick and smooth batter.  Let it ferment in a warm spot overnight. The following day, add baking soda to it. Beat the batter well and let it rest for 60 minutes. Pour the batter in a ketchup jug or a cake pipe. 
To prepare the sugar syrup, add water and sugar in a pan and cook it to dissolve the sugar completely. After that, add cardamom, saffron threads, and a few drops of lemon juice. Bubble it until the syrup arrives at just about one string consistency, and then keep it aside. 
To fry the jalebis, heat oil in a flat and wide pan. Pour the batter in the oil while making round spirals. Fry well until it turns crispy and looks golden on both sides. Take it out and move to lukewarm sugar syrup for 30 seconds. 
To make the Rabdi, heat the milk in a heavy-based pan. At the point when the milk begins bubbling, add saffron threads and vanilla essence to it. Continue stirring to avoid the burning of milk. Keep boiling till the milk reduces to one-third. Allow the milk to thicken. You can also scrape the sides in between.
Add sugar, malai, and let it cook for an additional 10 minutes on low heat. Take it off the flame and let it cool. Place the jalebi in a dish and serve with the rabdi.
The flavor and fragrance of saffron threads make jalebis even more beautiful. Make this recipe at your home and try stopping yourself as well as your family from eating more than just a few pieces.